Drywood Termites
Most people notice drywood termite swarmers, drywood termite pellets, or drywood termite damage as evidence of a termite infestation.
Swarmers have a red head, black body, and wings. Antennae are straight and the body is cigar shaped. Swarmers normally appear during the latter part of summer into the early part of fall. The height of the season is usually during October when the Santa Ana winds are blowing. They usually swarm around noon and are commonly found near sliding glass doors and windows because they are attracted to light. The location of a swarmer rarely indicates the location of the termite infestation.
Pellets are small, bun shaped, and are the color of the wood that is being eaten by the termites. Pellets will either be in a cone-shaped pile or scattered if they are falling from a greater distance.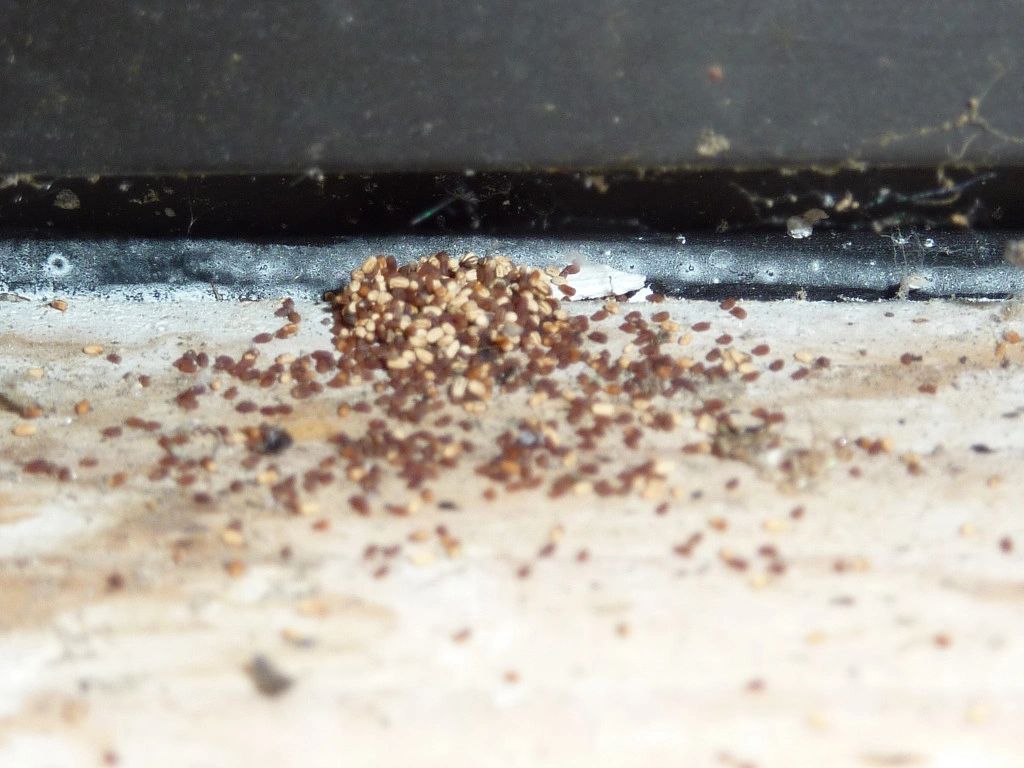 Pellets in cone-shaped pile
Pellets scattered
Drywood termite damage looks as if the wood has been sand blasted and there are pellets in the galleries.
Subterranean Termites
Most people either notice subterranean termite swarmers, dirt shelter tubes, or wood damage as evidence of subterranean termites.
Subterranean termite swarmers are slightly smaller than drywood termite swarmers. Their bodies are also cigar shaped, the head and body are black, their rear end curves up and they have wings. They swarm during the late winter into the early spring, and especially on warm days after it has rained. Like drywood swarmers, they usually swarm around noon and towards the light.
Dirt shelter tubes can pop up from the floor around baseboards, the middle of the wall, or ceilings. The dirt tubes are small and crusty when first observed. Subterranean termites live in the ground. They use dirt to form shelter tubes to come up into the structure to eat wood. Subterranean termites require a moist environment to survive and the tubes help seal in moisture. Tubes can be built throughout wall studs and go all the way up into second story ceilings. Since this termite needs a lot of moisture to survive, they are commonly found around toilet or shower areas.
Subterranean termite damaged wood always has dirt mixed in with the wood. Subterranean termites only eat the soft part of the wood in between the rings.